Pickup trucks are often pigeon-holed as workhorses. They load, haul, and come in handy on moving day. However, they aren't just made for working and towing. Every once in a while these trusty vehicles get an automotive makeover that renders them totally awesome. And why shouldn't they be? We love a truck that's tricked out for extreme off-roading, supercharged under the hood, or stands out in the design department. Here are 30 standout trucks that are shaking up the auto industry.
---
30. Jeep Gladiator Rubicon
Jeep totes the 2021 Gladiator as "the perfect mid-size Jeep pickup truck with off-roading capability and an exhilarating open-air driving experience". That's a lot of hyphens in one sentence, but the Gladiator itself is over-the-top, so it works. In terms of handling and performance, you can expect similar to the perennial off-roading favorite, the Jeep Wrangler, but with more room in the back, obviously.
This truck makes the most splash with its unexpected appearance—and we don't hate it.
CZMarlin via Wikicommons
29. International XT-Series
The International Extreme Truck Series (identified by the acronym XT) is a range of pickup trucks produced by Navistar International from 2004 to 2008.
There are three models in the series, with a commercial, recreational, and military version. Looking at them, it's easy to detect the inspiration the company drew from a similarly jacked vehicle—the Hummer. The Recreational XT holds the honor of being the longest production pickup truck ever sold in North America.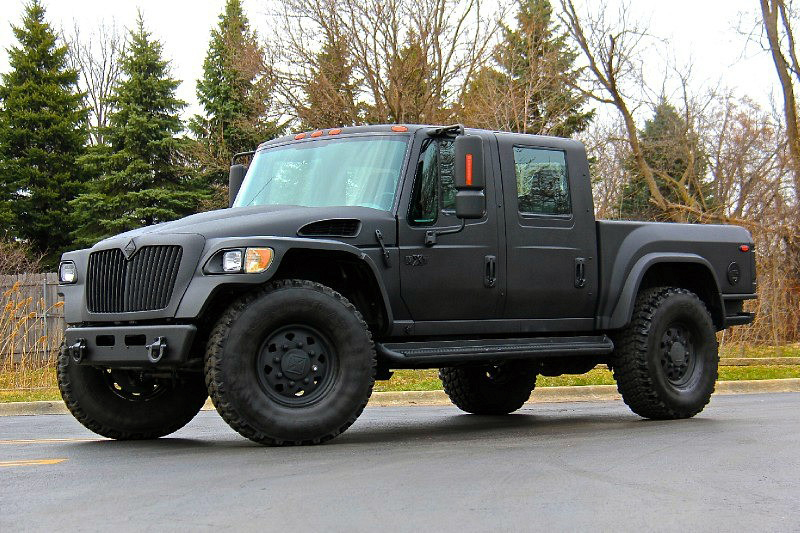 27. Hennessey Performance VelociRaptor 6X6
If you thought the F650 was expensive, get ready for the $350,000 VelociRaptor. Hennessey is known for taking already exceptional vehicles and putting their unique, supercharged spin on them.
The 6X6 is essentially a F-150 Raptor, enhanced in all kinds of clever ways. They threw on an extra axel to max out the size and upgraded the chocks, suspension, and drive train.
Most importantly, it has a 600 HP engine, which is just ridiculous on a pickup truck, but certainly a lot of fun to drive.
26. Chevrolet SSR
The Chevy SSR (Super Sport Roadster) was either going to be tremendous hit or a mega-flop—and ended up being both. A collector's item in the making, Chevy only produced them between 2003 and 2006. It's goofy appearance tends to get the most attention, but the SSR actually offers pretty impressive performance. The Corvette V8 engine delivers around 400 HP, so it can be classified as a muscle truck.
Still, it's unique design is what keeps this muscle truck in the automotive history books.
25. Dodge Shelby Dakota
The Dakota was a compact pickup truck from Dodge sold between 1987 and 1996.
It was dependable, tough, and pretty cool-looking—the support trim on the back went on to inspire the Chevy Avalanche. In a fit of inspiration, Dodge decided to come out with a performance version designed by Carroll Shelby, creator of racing engines beyond par.
Shelby took a regular production Dakota and installed a 5.2-liter V8 engine with 175 HP. That might seem low, but the Dakota was light and had lots of torque.
24. Ford F150 Tremor
The Tremor off-roading package predates the Lightning of the 1990s, but not many people remember that. The original F150 Tremor was a hot rod F150 with 365 HP from its 3.
5-litre EcoBoost engine. It came with suspension tweaks, unique graphics, and it was available as a two or four-wheel drive version. Even back then, the Tremor was fast; it could accelerate from 0 to 60 in six seconds.
For Summer 2021, Ford is offering the Tremor package once more, with 21-century updates that will take the F150 anywhere you want to go.
21. Pontiac El Catalina
Even though it wasn't a success, the El Catalina still deserves a spot on this list. Pontiac's version of the Chevrolet El Camino, the El Catalina, was produced in 1959. The two are very similar, but in our opinion the El Catalina pulled off the long-body convertable/cab/truck look more elegantly.
Like a lot of other Pontiac offerings, the performance was enviable and better than you'd expect for a such a long beast of a car. If GM brought the Catalina back, we wouldn't complain.
20. GMC Syclone
Back in the 1980s, turbocharged engines was the name of the game for GM.
So they took their popular Sonoma and boosted it with a 4.3-liter V6 supercharged for 280 HP. Next, they added a special four-speed automatic from a Corvette and performance-based all-wheel drive.
Thus, the Syclone was born. The original version was only produced for a few short years. The good news is, in 2019 GM brought the Syclone back, and you can still get this sporty package at the dealer today.
19. Chevrolet Silverado SS
Launched in 2003, the Silverado SS came out of the gate running with a 6.0-liter V8 that pumped out 365 HP and provided a sub-seven-second 0 to 60 mph time.
Sadly, this model was only produced for two years; GM stopped making them in 2005. After that, Chevy moved the Silverado into the 1500-series of vehicles we know and love today.
But the SS was an important stepping stone to changing the muscle truck game. 
18. Ford F150 Raptor
Introduced in 2010, we still look forward to the years Ford announces a new Raptor release.
This year's model promises to be an exciting addition to the lineup (there have only been two other so far).  The 2021 Ford Raptor includes a 3.5-liter turbocharged V6 with 450 HP powering a 10-speed automatic transmission with sub-five-second acceleration times.
We hope Ford keeps making the Raptor for a long time, because it's a great all-around pickup that perfectly balances off-roading capabilities with everyday functionality.
17. Chevrolet Colorado ZR2
If Ford has cornered the market in full-size trucks, Chevrolet is leading the pack in mid-size trucks with the Colorado.
The ZR2's diesel engine delivers just 181 HP, but 365 lb-ft of torque, optimizing its off-roading prowess. Combined with the use of diesel, the ZR2 has great fuel economy for such a high towing capacity.
But we also like it for its super tough looks, which fall somewhere between a military tank and a cranky stegosaurus.
15. Chevrolet El Camino 454 SS
The idea behind the Chevrolet El Camino pickup-coupe was that it would be an attractive daily ride capable of carrying light loads.
It could handle delivery duty and was a useful tool for small business owners, and it was quite a hit. In 1970, Chevrolet introduced the more powerful El Camino SS 454.
Packed with a 7.4-liter big-block engine with an official power rating of 450 HP, it had one of the best engines of the muscle car era.
The significant performance improvement wasn't a big draw for most Camino users, but it was a fun issue of this classic car.
14. Ford F150 Lightning
The Ford F150 Lightning is a legend.
It wasn't the first muscle truck, but it was one of the best and extremely well-executed. The first generation, produced from 1993 to 1995, is a true automotive icon.
The basic idea was to make a muscle truck using a regular F150, similar to the Chevrolet 454 SS. However, Ford poured a lot of thought and better engineering into their version of the supertruck.
The Lightning was lighter, smaller, but had an equally powerful engine, a 5.8-liter V8 with 240 HP and 340 lb-ft of torque. We'll take a re-issue of this classic any day.
13. Legacy Power Wagon
Offering something different than the rest of the trucks on this list.
the Legacy Power Wagon is a bespoke twist on a classic. Legacy Classic Trucks specializes in restoring and remodeling American classics. Legacy's interpretation of the Dodge Power Wagon kept the original design, durability, and usability—with a ton of modern features added on. Specifically, the 6.
2-liter Chevrolet LS3 V8 engine with 430 HP transformed this 1930s throwback into an extreme truck that could compete with anything on the road today.
11. Lamborghini LM 002
Move over Hummer, there's a new beast in town. Nicknamed "The Rambo Lambo," the LM 002 truck was a rugged upstart on the muscle truck scene. Ahead of its time, it was introduced in 1987 for a hefty $120,000, offering legendary performance for extreme terrain driving.
Under the hood it had Lamborghini's famous V12 engine, the 5.2-liter with 400HP that also powers the Countach. Despite its power and looks, LM 002 had problems.
It used a lot of fuel and maintenance was extremely expensive. For that reason, the Lambo muscle truck wasn't made in large numbers and is something of a rarity.
10. Chevrolet 454 SS
From a design perspective, the 454 SS didn't really break new ground. It followed a simple but solid idea:
to offer the biggest available engine in the lightest full-size truck. So, Chevrolet took an ordinary 1990 Chevy 1500 pickup truck with the short bed option and added a massive 454 V8 engine.
The enormous 7.2-liter V8 was only good for 230 to 255 HP, but it also had 385 lb-ft of torque, which matched that of their heavy-duty truck lineup.
Low-key on the outside, the 454 SS packed a serious punch under the hood.
9. Ford F150 SVT Raptor
The 2014 SVT (Special Vehicle Team) edition of the Raptor improved on the performance of the original 2010 version.
It was a fully-loaded capable of doing donuts on desert dunes and ripping up mountains at high speeds. Conceived as an extreme-terrain vehicle, it had decent muscle car credentials thanks to its 6.
2-liter V8 producing a 411 HP. However, the 2021 Raptor promises to outdo it with a twin-turbo 3.5-liter V-6 good for 450-hp and 510 lb-ft of torque.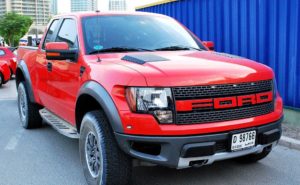 8. Dodge Ram SRT-10
Dodge offered the SRT-10 between 2004 and 2006, and it was considered the best performance truck on the market.
These bad boys still command a high resale price, they're so respected. Specs included a 8.2-liter V10 engine that pumped out over 500 HP, with a 0 to 60 time of fewer than five seconds.
Incredibly, despite having this kind of power, the SRT-10's fuel economy was in the single digits. With an appearance that demanded attention, it's a surprise that it wasn't a bestseller. The price tag might have been to blame — $45,000 is no joke. 
7. Mercedes G-Class G63 AMG 6X6
This extreme terrain vehicle had so much wow factor that it's hard to believe it was only in production from 2013 to 2015. In contrast, the Mercedes G-Class lineup of SUVs is one of the longest-running in the automotive world.
It began as a military vehicle, and you can still see those design elements in the consumer models offered today. The AMG 6X6 had a twin-turbo V-8 engine and 6×6 portal axles supporting a pickup version of the G-Class body—with the luxury interior one expects from a Mercedes.
5. Ford Ranchero GT
Like the El Catalina and the El Camino, above, the Ranchero was a coupe utility vehicle with the payload of a light truck with the drivability of a car. When the muscle car craze hit in the 1960s, Ford decided to ramp it up with its most potent muscle car engine ever, the 429 Cobra Jet, which could produce up to 450 HP.
Most everyday drivers didn't need that much power back then, but these days the added performance means the Ranchero GT sells for upward of $100,000 in the collector's market.
4. Hummer EV
Ok, even Hummer haters have to get behind this one.
When GM announced their transition to an all-electric lineup over the next few years, we thought the Hummer as toast. But leave it to GM to figure out how to convert this quintessential gas-guzzler into a zero-emission dream with the same eye-popping torque and horsepower.
Could owning a Hummer now be a calling card for climate savers? We'll have to wait and see—the Hummer EV debuts in Fall 2021.
3. Shelby F-150
The Shelby F-150 is based on the popular Ford F-150, but with a 395HP, 5.
0L V8 engine that can be supercharged to over 770HP. According to the manufacturer, "Shelby's adaptation of Ford's F-150 is as natural as going racing while raising chickens, something Carroll did at the beginning of his legendary career". That's adorable! But there's nothing cute about this truck, which has the tough looks to match its incredible torque.
2. Dodge D-Series High Performance Package
In the 1960s, Dodge was struggling to keep up with Ford and Chevrolet in the pickup truck landscape. So, they introduced a supercharged special edition from 1964 to 1966 that took the pickup world by storm.
They called it their High-Performance Package and it featured a 426 Wedge V8 engine with 375 HP, at that time the biggest, most powerful engine ever installed in a pickup truck.
The D-Series made Dodge a major contender in the pickup market, and they've been there ever since.
1. Tesla Cybertruck
So everyone know about the Cybertruck's unique exterior design. Let's focus on what's under the hood. In terms of performance and range, Tesla claims the premium model will have an insanely quick 0 to 60 mph time in the 2.
9-second range. Of course, it will run on an electric lithium battery-powered engine with an expected range of 250 to 500 miles. The Cybertruck's extreme terrain and off-roading capabilities require more testing to say for sure how well it performs. But it does come with bulletproof glass windows, and that's pretty cool.