The most dangerous roads in the world can betray you in different ways. Some have treacherous terrain, others are prone to inclement weather. In still other cases, the real danger is the drivers.
From mountain trails to desert highways, let's take a look at the last places on earth you want to be stuck as a backseat driver.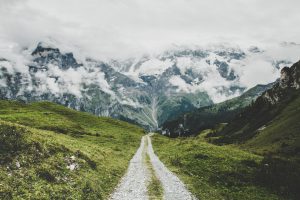 ---
40. Oh-My-God Road, USA
Ranging from 7-9,000 feet above sea level, the aptly named Oh-My-God Road is one of Colorado's most infamous.
Connecting Idaho Springs to Central City, it's nominally a two-lane road.
But you definitely can't fit two cars abreast here. Additionally, it would be a very bad choice to take a car on this route.
You're better off with a 4WD SUV and a very experienced driver. And in the wintertime? Don't count on the road being clear.
The danger is worth the beauty, however. Oh-My-God Road offers panoramic views and passes through the ghost town of Russel Gulch.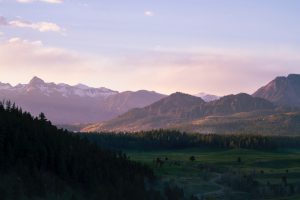 39. Lysevegen, Norway
Lysevegen is only 18 miles long, but it packs a punch as it snakes its way through the Norwegian mountains.
Though not a long drive by any means, it's popular with tourists. Probably they come to challenge themselves with Lysevegen's 27 hairpins. There are also breathtaking views to behold.
However, the price of admission is a very narrow, winding path. Keep your eyes peeled for oncoming traffic!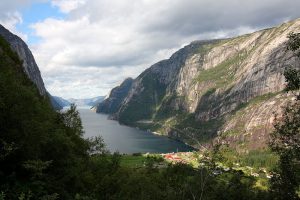 38. Shafer Trail Road-Shafer Canyon Road, USA
Shafer Canyon is a great off-roading experience, but it's not for beginners.
In poor weather or low light, it can be perilous. Located in Moab, Utah, it's doable as long as you have 4WD — and a certain fearlessness.
Keep an eye out on the 18-mile drive for Indian petroglyphs in the rock walls of the canyon. But also… keep an eye on your driving, because this is truly one of the most dangerous roads in the world.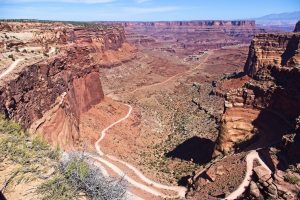 37. Passo dello Stelvio, Italy
One of the most iconic mountain passes in Europe, the Passo dello Stelvio cuts through the Ortler Alps at 9,045 feet above the sea. This road is the definition of 'serpentine', slithering its way back and forth up hillsides, making 48 hairpin turns.
Since the road is narrow — and since, in Italy, traffic laws are mere suggestions — this one is only recommended for experienced drivers.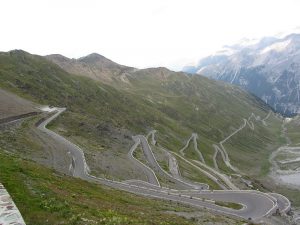 36. Engineer Pass, USA
This one is so dangerous that it's generally impassible from October to May.
Engineer Pass is one of the highest roads in Colorado, at 12,800 feet above sea level. It's a gravel track that forms one half of the famous Alpine Loop.
This borderline off-roading experience comes complete with abandoned mines and ghost towns in the San Juan Mountains. Just check the weather before you go!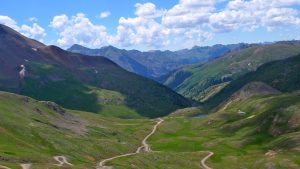 35. Passage du Gois, France
The real challenge of driving the Passage du Gois is that it floods twice a day.
If you're caught on the wrong side of the tides, you could be swept out to sea! It's only a 4.3 km stretch of road along the Atlantic coast of France's Vendée department, but cars have disappeared here before. You might want to pack your water wings.
34. Loveland Pass, USA
Colorado sure does have its share of entries on the list of most dangerous roads. Loveland Pass in the Rockies certainly qualifies. At an elevation of 11,990 feet, it may be the highest road in the world that's open year-round.
Yes, that's right: you can even drive it in the winter. Just bear in mind that avalanches and snowdrifts can block portions of the road.
Check the weather, and come prepared for a cold-weather survival scenario.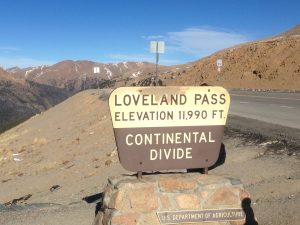 33. Road N15, Cameroon
Snow, ice, and elevation aren't the only factors that make one of the most dangerous roads.
In the case of Cameroon's 243-mile N15, the danger is flooding. After heavy rains, this dirt road is reduced to a muddy morass. The mud can get so thick that literally no vehicles can pass, which can turn your road trip into an extended camp-out in a hurry.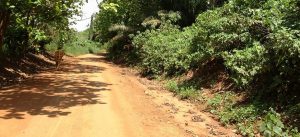 32. Kismayo-Bardera City Road, Somalia
The 292-mile Kismayo-Bardera City Road is one of the most dangerous roads in Africa. Here the concern isn't so much the terrain — although there are steep and narrow stretches.
More worrying are violent militias that set up illegal checkpoints. When you add bandits, poor infrastructure, constant accidents, and feral wildlife… the result is a drive that's probably best not taken.
Of course, if you're driving in Somalia, you're probably not going to take our advice on safety.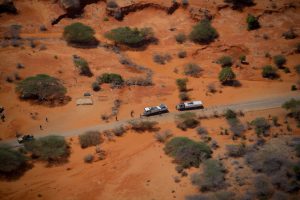 31. Hurghada-Luxor, Egypt
This road links the ancient Egyptian city of Luxor with the Red Sea.
Although it's been completely repaved, our friends at Dangerous Roads still characterize it as "a death trap".
There are two main reasons. One, driving in Egypt is an essentially lawless activity.
There are many fatal accidents on the Hurghada-Luxor Road, especially at night. Two, the Egyptian military is also engaged in struggles against rural bandits and highwaymen who may attack unwary travelers without warning.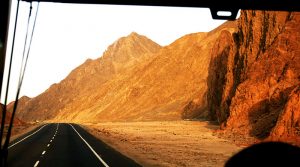 30. Sa Calobra Road, Spain
Narrow, mercilessly winding, and alarmingly steep, Sa Calobra is the most scenic drive on the island of Majorca. But that steep gradient and the constant turns also make it one of the most dangerous.
Not for nothing have locals nicknamed it "the snake".
29. Kahekili Highway, USA
Volcanoes aren't the only scary things in Hawaii. There's the Kahekili Highway for one thing.
One one side of this narrow lane — a sheer rockface; on the other — the cliff edge. When you add the constant worry of falling rocks, you definitely have one of the most dangerous roads in America.
Maui's most infamous drive is definitely not for the faint of heart, even if it has recently been repaved.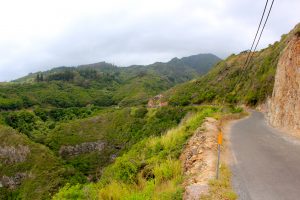 28. Col du Chaussy, France
The Col du Chaussy is a mountain pass in southeastern France.
It's more than 5,000 feet above sea level, but it's not the elevation that lands Chaussy on this list. It's the 17 hairpin turns the road takes as it winds its way up a cliff face.
The death-defying turns make for an incredibly beautiful drive — but a dangerous one if you don't hold your concentration.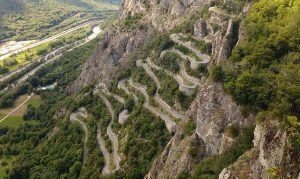 27. Iron Mountain Road, USA
Located in South Dakota's Black Hills, Iron Mountain Road takes you up 5,445 feet to summit the peak of the same name. It's only 15 miles long, so it has to climb the mountain in creative ways.
Those methods include tunnels, switchbacks, and more than 300 curves. It even has multiple pigtails (places where the road crosses over itself). All this adds up to a scenic drive that requires more than a little intestinal fortitude.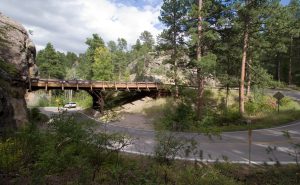 26. Tianmen Shan Big Gate Road, China
Frequently used for driving endurance challenges, China's Tianmen is one of the most beautiful mountain roads in the world. Narrow, steep, and with 99 sharp turns in 7 miles, Tianmen bends and swoops around sheer drops that will make your heart pound.
Plus, at the end of the drive, you reach Tianmen National Park, one of the best mountainscapes in the world.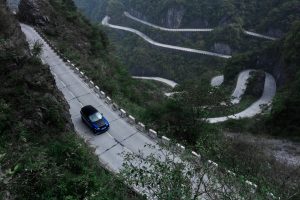 25. Furka Pass, Switzerland
Swerving through the Swiss Alps, the Furka Pass is one of the coolest drives in Switzerland.
But it's a doozy. Tourists flock here to drive on one of Europe's highest paved roads (almost 8,000 feet). If they're smart, they come prepared for the precipitous hairpins.
And the frequent snowfall.
The Furka Pass may look familiar. That's because it was the backdrop of an iconic car chase in the James Bond film Goldfinger.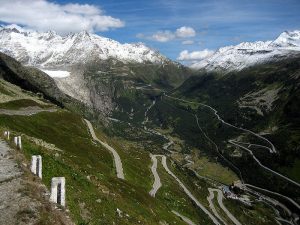 24. Leh Manali Highway, India
The 298-mile Leh Manali Highway isn't messing around. It wends its way through the Himalayas, between 2 and 3 miles above sea level.
What makes it one of the most dangerous roads in the world? Well, the weather can turn traitor fairly quickly in the mountains.
You also have to worry about the treacherously cold temperatures and the fact that most of the route is extremely remote.
It's not like there are regular rest stops in the middle of the Himalayas.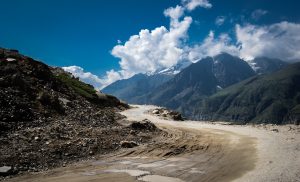 23. Bayburt Of Yolu-D915, Turkey
In the Trabzon province of Turkey, you'll find one of the most dangerous roads in the world. On D915, drivers face sheer drops hundreds of feet to the valley below. The road is narrow and unpaved, with wild turns and no guard rails.
Literally one slip here, and it's all over.
The only reason this doesn't rank as one of the very most dangerous roads in the world is that only complete nutcases drive here.
Seriously: do not take this road.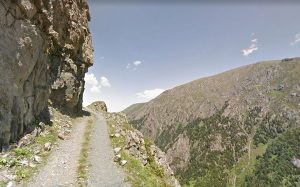 22. Bruce Highway, Australia
Bruce Highway may be one of the most dangerous roads, but on the bright side, it's also insanely long.
Covering 1,000 miles, the Bruce Highway is one of the key routes linking Queensland together. That's really the source of the danger; the road is narrow, heavily traveled, and prone to accidents.
People kind of drive like maniacs here, so stay alert. Passing is a particular risk.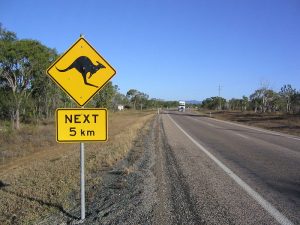 21. Route 431, USA
It may surprise you to learn that the United States is the fourth most dangerous driving country in the world. And one of the most dangerous roads is Alabama's US Route 431.
The main reasons are poor visibility and just straight-up dangerous driving by the locals.
The road has been widened in places, making it less dangerous than it was in the past.
But you should still stay alert.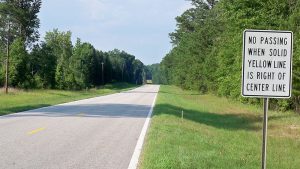 20. A726, Scotland
This Scottish thoroughfare is surprisingly deadly. More than 40 people have been killed here in recent years. It's especially dangerous for pedestrians and bike riders, as the road twists and turns and visibility can be an issue.
But apart from that, the alarmingly high death rates on this 7-mile stretch of road are anomalous.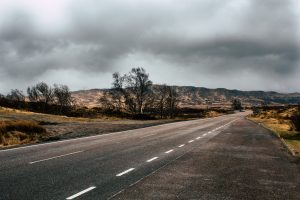 19. Trollstigen, Norway
If you want to try Trollstigen Road, you'll have to visit Norway in the summer.
(Which is advisable anyway). The road is steep and boasts 11 hairpins. It's also nestled into the mountains, where rain, snow, and fog can affect visibility.
On top of that, it's narrow, which only adds to the peril.
It's not hard to imagine why they close Trollstigen down during the winter months. In the snow, you would stand no chance.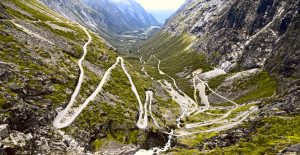 18. Pan-American Highway
At more than 30,000 miles in length, the Pan-American Highway is the longest drivable route in the world. It passes through a whopping 10 countries, spanning the Americas.
It's kind of cheating to put it on this list, but some of the ground it covers is very dangerous. Some sections are extremely remote.
The weather is an issue, making some parts of the route impassible for parts of the year. And then there's the wildlife..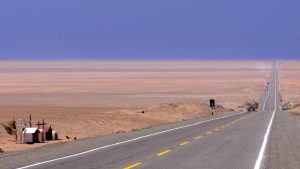 17. Commonwealth Avenue, Philippines
Commonwealth Avenue isn't a mountain pass or a rural dirt road.
It's a major route in Quezon City. But the traffic here is so bad that it has led to extreme numbers of accidents and fatalities.
Driving in the Philippines can be a deadly game, so make sure you hire your taxi driver carefully. Locals call it "the killer highway".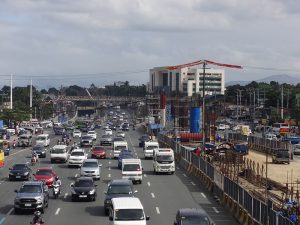 16. Patiopoulo-Perdikaki Road, Greece
This 17.
9-mile mountain road in northeastern Greece is a killer. Unpaved, narrow, steep, and with thousand-foot dropoffs waiting to swallow you up. There are no safety rails either.
Suffice it to say, the only reason to use this road is if you're a local shepherd hauling a cart.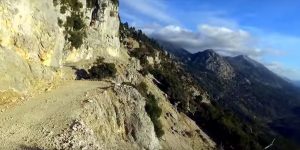 15. N2, South Africa
13,768 people die on the roads of South Africa every year. The most dangerous road of all is N2, also known as the Settlers Freeway.
The main reason is that drivers in South Africa kind of make up their own rules as they go. In general, if you're visiting, you should not rent a car.
Let the locals do the driving for you if you value your life and limbs.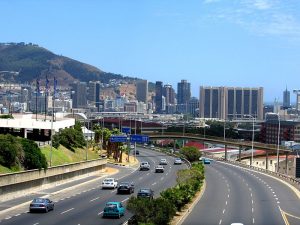 14. Federal Highway 1, Mexico
Mexico's Highway 1 snakes its way up Baja California and the west coast of the country for 1,063 miles. It does feature some sheer drops into the ocean on one side.
However, the real danger here is other drivers. Several Mexican states issue driver's licenses without any need to take a test. The volume of traffic combined with bad drivers makes Highway 1 a bit of a disaster.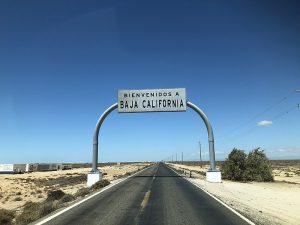 13. Bakhchysarai Highway, Ukraine
The really dangerous thing is trying to say it three times fast.
No. This splendid 77-km Crimean highway has more than 50 hairpins and offers magnificent views of the surrounding region.
The problem is that the road is meandering, narrow, and features precipitous drops. It is also inconveniently located in a harsh climate where the weather changes unpredictably, making the way even more treacherous.
Plus you have to worry about running afoul of Vladimir Putin in Crimea these days.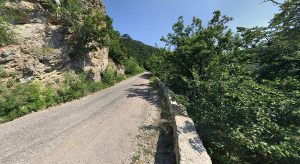 12. Nairobi-Nakuru Highway, Kenya
The Nairobi-Nakuru Highway shouldn't be one of the most dangerous roads in the world.
It's paved and the terrain isn't particularly dangerous. Unfortunately, Kenyan drivers are so bad that it lands fairly high on our list. In fact, it apparently became more dangerous after it was paved since that made it easier to speed.
It's basically a government-funded demolition derby.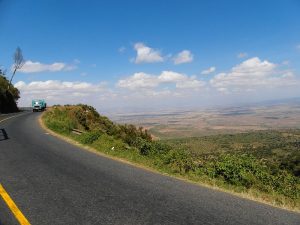 11. James Dalton Highway, USA
Sometimes called the loneliest road in America, the James Dalton is one of the remotest routes in Alaska.
This is pure wilderness, unmitigated isolation. That's a danger in and of itself, as is the fury of the Alaskan winter. But another concern is the blistering wind, which sometimes blows rocks large enough to damage windshields into the path of vehicles.
There are only three communities along this 413-mile route.
10. Guoliang Tunnel Road, China
The translation of the name is: 'Road that tolerates no mistakes'. The tunnel is impressive, but cars have to drive very slowly to avoid collisions.
The opening is only 0.75 miles long, 16 feet tall, and 13 feet wide. It's a desperately tight fit.
9. Taroko Gorge Road, Taiwan
The Taroko Gorge Road is literally carved out of the mountains that surround it.
It's an impressive feat of engineering, but also insanely dangerous. The pavement is really only wide enough for one-way traffic in places, and the way is littered with blind turns.
Is the spectacular scenery worth the risk? If you're a confident, experienced driver — yes.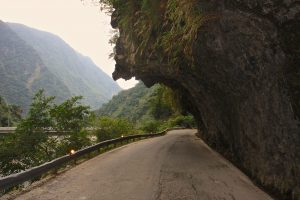 8. Strada delle 52 Gallerie, Italy
Originally constructed by the Italian army in WWI, this most dangerous route is named for the 52 tunnels you'll pass through in its 6km length.
The road is unpaved, rough, and steep, with huge drops and no railings to save you. The Italian government has tried to stop locals from driving here, but to no avail.
While the Strada is impressive and historic in its own way, you're risking your life if you try to drive her. Don't roll the dice.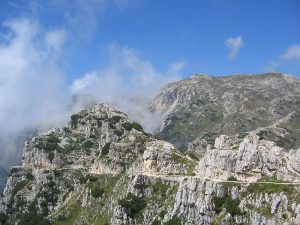 7. Skippers Canyon Road, New Zealand
Skippers Canyon Road on New Zealand's South Island may be the oldest road on this list. It was carved out of stone by miners more than 140 years ago.
You can tell. It's insanely narrow, with twists and turns not designed for modern cars, and a deadly drop. But it's also a popular drive for folks in search of a view.
Just make sure a view is all you get!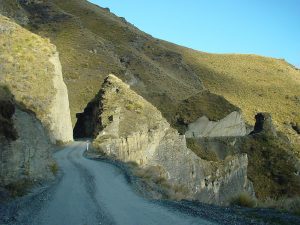 6. Trans Siberian Highway, Russia
If you think the Trans Siberian Orchestra is intense, wait 'til you get a load of the Trans Siberian Highway.
The truth is the quality of this insanely long highway varies greatly. In heavily-traveled areas, it's paved and well-maintained. In the middle of nowhere… who knows?
You could be dealing with a snow-covered dirt road. Russian winters wreak their havoc on the Trans Siberian, making it a dangerous drive if you're venturing off the beaten path.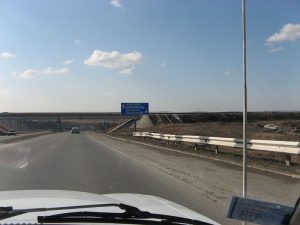 5. Zoji La, India
Located in Ladakh, India, Zoji La is basically a suicide mission for an uninitiated driver. It's an unpaved mountain pass so narrow that cars go single file, even as they struggle with the steep incline.
And falling? Well, needless to say, you don't want to do that.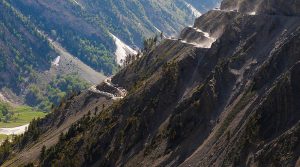 4. Route 5, Chile
Chile's Route 5 cuts right through the Atacama Desert, one of the driest places on earth. And that really is what makes it so dangerous.
There's no civilization and almost nowhere to stop. You're fully exposed to the heat, the wind, the sand, and the loneliness of the desert.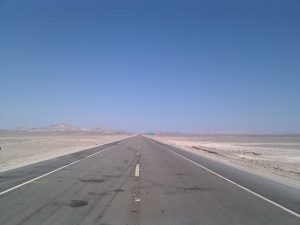 3. BR-116, Brazil
BR-116 is a 2,700-mile stretch that runs along the Atlantic coast of Brazil. It's on this list for a particularly sickening reason: child exploitation.
Yes, the BR-116 corridor may be the worst area on the planet for kids. So many children are sold along this highway that, on average, there's somewhere you can purchase a minor every 10 miles.
It's estimated that half a million children in Brazil live in this perverse state of servitude.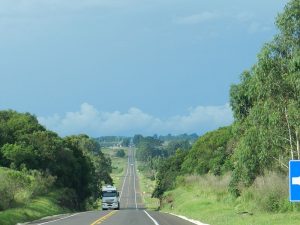 2. Fairy Meadows Road, Pakistan
Easily the funniest name on the list, Fairy Meadows Road sure doesn't sound like one of the most dangerous roads in the world.
But don't judge the book by its title.
According to the World Health Organization, Fairy Meadows is the second most dangerous track in the world because of its "treacherous high altitude, unstable and narrow mountain roads".
The road leads to the base of the Nanga Parbat Mountain.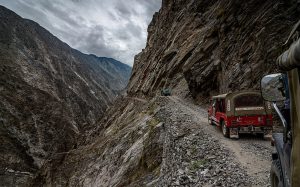 1. Death Road, Bolivia
Alright, it's technically called 'the Yungas Road' but you don't get a moniker like 'Death Road' without earning it. If you must know, 18 cyclists have died here since 1998.
Bolivia's death road is the epitome of danger: steep, winding, choked with traffic and tourists, and with insane drops. There are no guardrails and plenty of fog to obstruct your visibility.
I would say only a lunatic would drive or bike here, but thousands of tourists do it every year. Whatever, dude. It's your funeral.